Karmin
is a United States pop music duo consisting of
Amy Heidemann
 and
Nick Noonan
, who are currently engaged to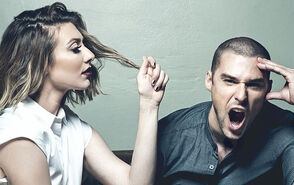 each other. They are best known for their covers of Chris Brown's "Look At Me Now", Nicki Minaj's "Super Bass" and LMFAO's "Party Rock Anthem". Their original song "
Take It Away
" was used in promos for the 2011 NBA Finals.
Amy graduated from Seward High School in Nebraska along with her younger brother Eric Heidemann and younger sister Megan Heidemann. Nick graduated from Old Town High School in Maine, where he was a member of the concert band and jazz ensemble. Amy and Nick met at Berklee College of Music and released their first album, Inside Out, in May 2010. Aside from their appearance on Ellen, the group has more than 150 million views on YouTube. The duo gained popularity after being discussed on reddit and their video for "Look at Me Now" was posted on Ryan Seacrest's blog. The group later thanked reddit by giving the reddit alien mascot a prominent place in their video for their cover of "6 Foot 7 Foot". There was significant anticipation and speculation concerning Karmin signing with a record label. On June 2, 2011, the group announced that they had been signed by a major record label. Reports indicated, with confirmation from an industry insider, that the group had signed with Epic Records as part of L.A. Reid's return to the company. On their official website they asked their fans about what they wanted to hear on their album, and about 50% said they would like to have rapping. On February 11, 2012, Karmin was the musical guest on Saturday Night Live, performing two original tunes "Brokenhearted" and "I Told You So" from their EP Hello.
Karmin recently announced that they would spend the month of November recording their first full-length album, Pulses. The album spawned 2 singles before its official release, with Acapella. and I Want It All being released before Pulses was released on March 25, 2014.
In late-2014, Karmin departed from Epic Records and released their original track "Sugar". Karmin's upcoming album Leo Rising will release September 9, 2016.
Discography
Edit