Welcome to the wiki!
This wiki was created to be the ultimate database of all things relating to pop duo Karmin. We are still growing since this wiki was founded in March 2012 and currently have 71 articles. Wikis are available for anybody to edit and are completely free. You are welcome to edit any page and add your knowledge. If you have any questions, please contact an admin.
Featured Article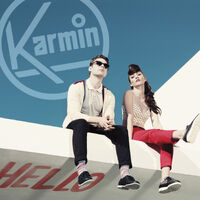 Hello
is Karmin's third EP. It was released on May 8, 2012. The EP contains the smash hit "Brokenhearted". During an interview prior to the release of the EP, Karmin stated that there is a possibility of a deluxe edition of the album with the single "Crash Your Party" on the track list...

Keep Up With Karmin!
Featured Poll
Blogs
Are you excited for Pulses already? 'Cause I am very!! Pulses is a new album by pop duo Karmin to be released. So far, one single has just spawned, Acapella, inspired by Pitch Perfect. More are comin…
Azealia Banks responded to Karmin's remix of Drake's song "Started from the Bottom".
Amy mentioned her in the remix.She (Amy) said "Stop all the comparing me, no Nicki Minajery/ Let me out the cage so…
What do you think of Karmin's cover of Started from the Bottom?
See more >